Fire Damage Restoration in Mount Kisco Homes
3/22/2023 (Permalink)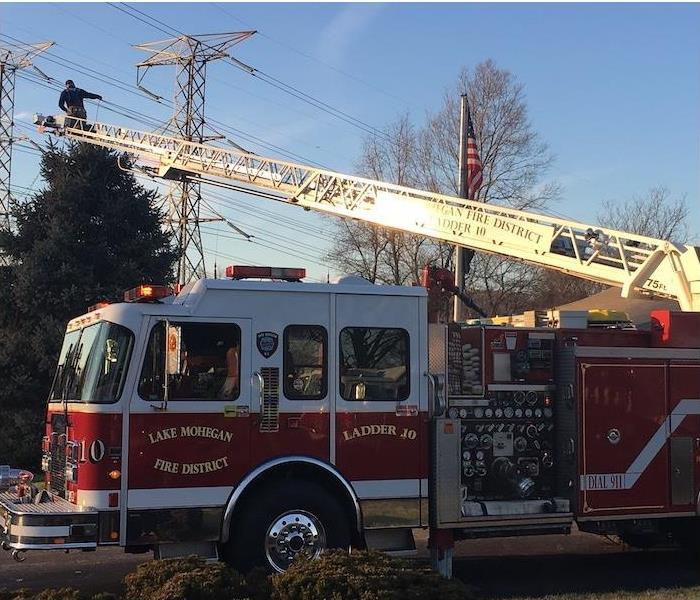 The fire department is here to help put out the fire; SERVPRO is Here to Help during fire damage restoration in Mount Kisco.
SERVPRO Improves Fire Restoration Outcomes in Mount Kisco by Using Unique Procedures
Knowing the tedious work and costs involved in fire damage restoration, you might question its essence. However, since saving valuables at your Mount Kisco home is essential, the restoration exercise is critical. Generally, items resilient to heat and flame exposure and do not absorb water are readily salvaged. Advanced restoration can help address changes in materials such as charring and accumulation of residues.
Proper planning is essential for effective fire damage restoration in Mount Kisco properties. Otherwise, it is possible to do significant work that does not change the trajectory of the incident. When SERVPRO intervenes, it is easier to optimize any fire damage restoration step to address the arising problems.
Deciding what to save after a fire may not be as straightforward as you might think. Although you may consider all the items in your house as valuables, you have to alter your outlook during fire damage restoration. The value of an item has to be weighed against the cost of getting a replacement, the time and effort needed to fix it, and whether it holds any sentimental value. A professional assessment can narrow down the items to consider salvaging by identifying the technical issues restoration must address.
Readily salvageable materials include:
Glass materials
Metal items
Hardwood floors
Soiled fabrics
The glass items affected by a fire in your house could range from kitchen utensils to structural materials such as window panes. Since glass is resilient to some degree of heat and does not absorb residues or moisture, items left intact are easily salvaged after a thorough cleaning. One problem with glass items is the hazy look that develops after cleaning the soot residues, making your precious items look cheap. Our SERVPRO technicians use advanced cleaning methods to remove such blemishes. Specializing cleaning products such as the Window Green Clean solution help strip off soot residues, leaving window panes shiny for glass panes. For small items like utensils, immersion methods such as Ultrasonic Cleaning help.
An ultrasonic cleaning system combines the power of chemical agents with a mild abrasive power to provide the best cleaning outcomes. Abrasion comes from millions of tiny vapor bubbles that the system produces and implodes instantaneously, effectively removing fire residues.
Restoring Significant Changes
Some of the changes in materials triggered by fire are significant, but it might be possible to reverse them with the right fire damage restoration approach. Charring and deep soiling are likely for solid wood materials such as frames and trusses supporting the house. Charring can weaken the structural materials if it is deep enough. It also leads to persistent odor issues if not fully addressed.
Dealing with charring
Measure char depth, depths of ¼ inch or less can be salvaged, even on roof trusses
Clean abrasively to remove residue
Seal or refinish the affected areas
Using a simple tool such as a char gauge, our SERVPRO technicians check whether any charred material section exceeds a percentage that would compromise the structural integrity, thus making it unsalvageable. Removing a layer of carbon residues left as charring requires significant power since it is attached to the material, unlike a layer of deposits that you can easily wipe off. An abrasive cleaning method is essential. Our crews assess the situation to determine whether sanding or blast-cleaning with a medium like dry ice or soda would be ideal. Dry ice and soda are excellent when you do not intend to scour the material deeply or leave significant debris. The two blast cleaning methods drive dry ice or soda pellets over a surface at a high pressure where they disintegrate on impact, stripping away unwanted fire residues.
SERVPRO of Northern Westchester County takes any action necessary to ensure fire damage restoration has a positive impact. Call us at (914) 241-8100. We're Faster To Any Size Disaster.